FUJIFILM Instax Mini 12 Instant Camera Macaron Kit
In-built selfie mirror & Close-up mode
Selfies. It's what the INSTAX mini 12 was born to do. With a perfectly positioned mirror, Close-up mode, automatic flash control and cheery mini prints, the mini 12 is much more than just a pretty face. It's a selfie moment grabbing extraordinaire.


Ready to go
Take it easy. The mini 12 features automatic exposure and flash control, so you can simply aim and click. No messing around with settings, or remembering to turn the flash on; just joyful one-off snaps every time, whether you're going for gold, silver or all out Fun with a capital F.
Twist & Go
The INSTAX mini 12 is designed to keep up with life, wherever your adventures may take you. Which is why this camera is kitted out with super simple controls so all your friends can have a go. Twist to turn on. Twist further to enter Close-up mode. Twist to turn off. That's it, lesson over.
Close-up Mode
By switching to Close-up mode, the adjustable viewfinder neatly pairs up with the lens, so you get the shot you see. We're talking millimetres, but when you're this close, there's no room for error.
High-Speed Printing
It's fast. Approximately 5 seconds fast. Take your pic and watch it eject lightning quick (development time approximately 90 seconds), all without compromising on image quality.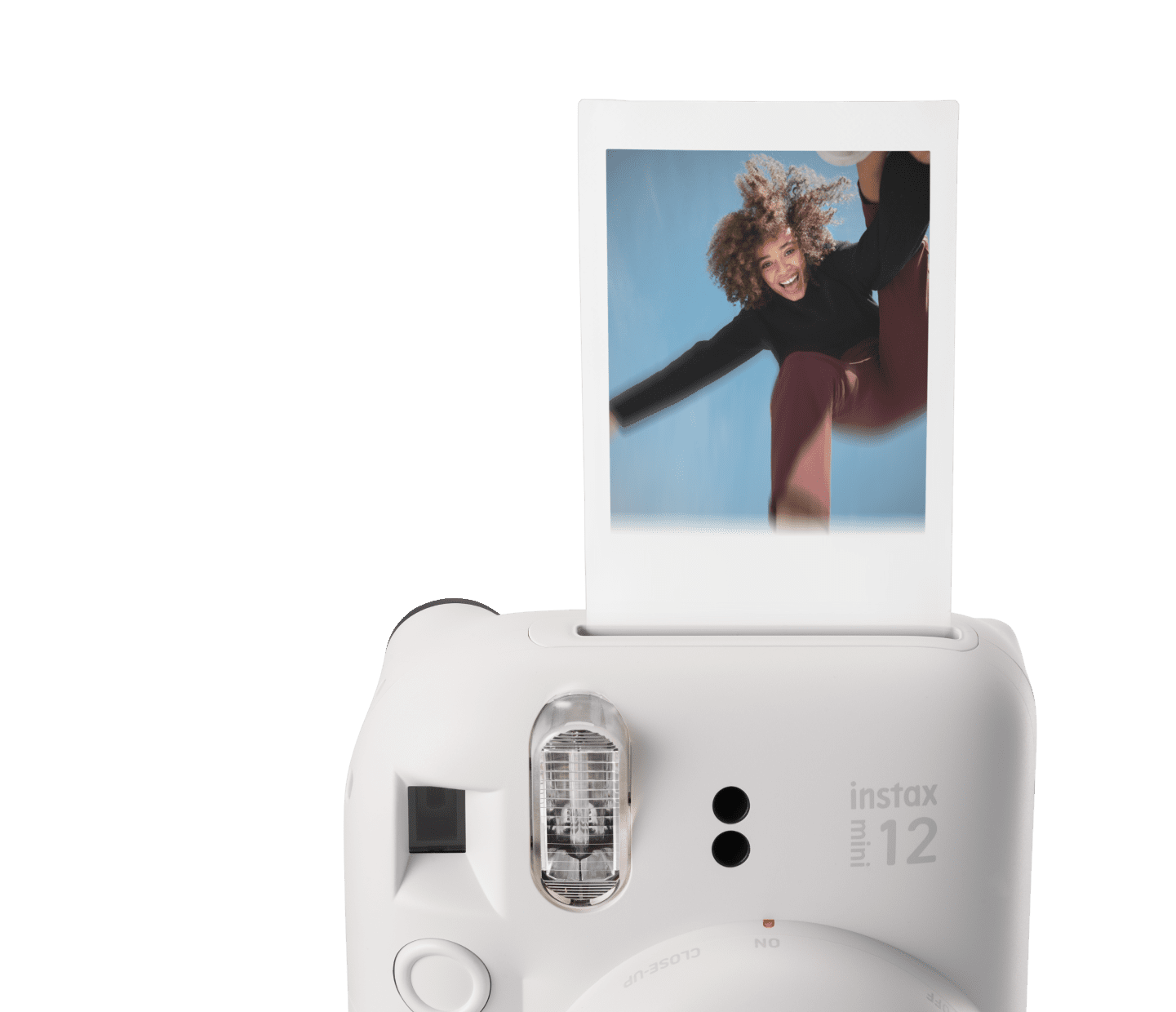 Film
Film - Fujifilm Instant Colour Film "instax mini" (separately available)
Film Size - 86mm x 54mm Picture Size 62mm x 46mm
Film Developing Time - Approximately 90 seconds (Varies depending on the ambient temperature)
Viewfinder
Real image finder, 0.37x, with target spot
Parallax correction function for close-up mode
Lens
2 components, 2 elements
Focal length - f = 60 mm, 1:12.7
Shooting range - 0.3 m and beyond (use close-up mode for 0.3 m to 0.5 m)

Exposure
Programmed electronic shutter - 1/2 to 1/250 sec. Slow synchro for low light.
Sensitivity - Lv 5.0 to 14.5 (ISO 800)
Exposure control - Automatic

Flash
Constant firing flash (automatic light adjustment), recycle time: 7 seconds or less (when using new batteries)
Effective flash range: 0.3 to 2.2 m
Shooting Modes
Printing Specs
Film ejection - Automatic

Battery Specs
Two AA-size alkaline batteries (LR6), capacity: approx. 10 instax mini film packs of 10 exposures each

Dimensions
104 mm × 122 mm × 66.6 mm
306 g (without batteries, strap, and film)